RECHERCHE À / LOOKING FOR

Exposition "Vous me troublez, Anne-Lise"
Du 10 juin au 30 septembre 2016, à la Médiathèque de l'ESADSE, Saint-Étienne.



Recherche à
2016
5 objets et 2 protocoles



La médiathèque est un lieu de recherche et d'intimité intellectuelle. On y déambule parmi des étagères à la recherche d'un objet : le livre. On y est soumis aux règles de l'espace public : on se sent observé. Ainsi, je propose et dispose des objets, classés selon une côte et un sujet précis, parmi les livres.
L'ensemble des objets est lié aux œuvres et textes fondateurs des dispositifs optiques. La côte est l'adresse du livre sur les étagères et reprend la classification employée dans la bibliothèque. Ces objets pourront être décrits et donc recherchés dans la base de données sur la place et en ligne.
Le titre de chaque pièce correspond à l côte du livre auquel elle fait référence : 709.2 DUC indique la place des livres monographiques de Marcel Duchamp. 709.2 GRA indique ceux de Dan Graham. 709.2 VAN indique ceux de Van Eyck.
Une œuvre de chaque monographie est prise en référence et décrite dans la notice de l'objet incluse dans le catalogue de la bibliothèque.
Par exemple, pour Marcel Duchamp, Étant donnés, 1°La chute d'eau, 2° Le gaz d'éclairage.
Pour Dan Graham, Picture Window Piece et Van Eyck, Les époux Arnolfini. 701 ALB correspond au livre De pictura, de Alberti. 700.01 BEN au Panoptique de Jeremy Bentham.
Le titre de l'objet est celui de la côte du livre pris en référent. La taille et la matière sont indiquées dans le descriptif.
Le titre « Recherche à » correspond à l'onglet du moteur de recherche des médiathèques de Saint-Étienne.

http://mediatheques.saint-etienne.fr/exploitation/

Library is a place to research and intellectual's privacy. We walk around among shelving units to looking for a object : a book. We are subject to rules of public space : we feels like observed. Thus, I propose and place ranged objects by classification and precise subjects.
Both of objetcs is tied to texts and artworks from optical devices. Classification is book adress on shelving unit.


Le Panoptique, de Jeremy Bentham / par Léa Ducos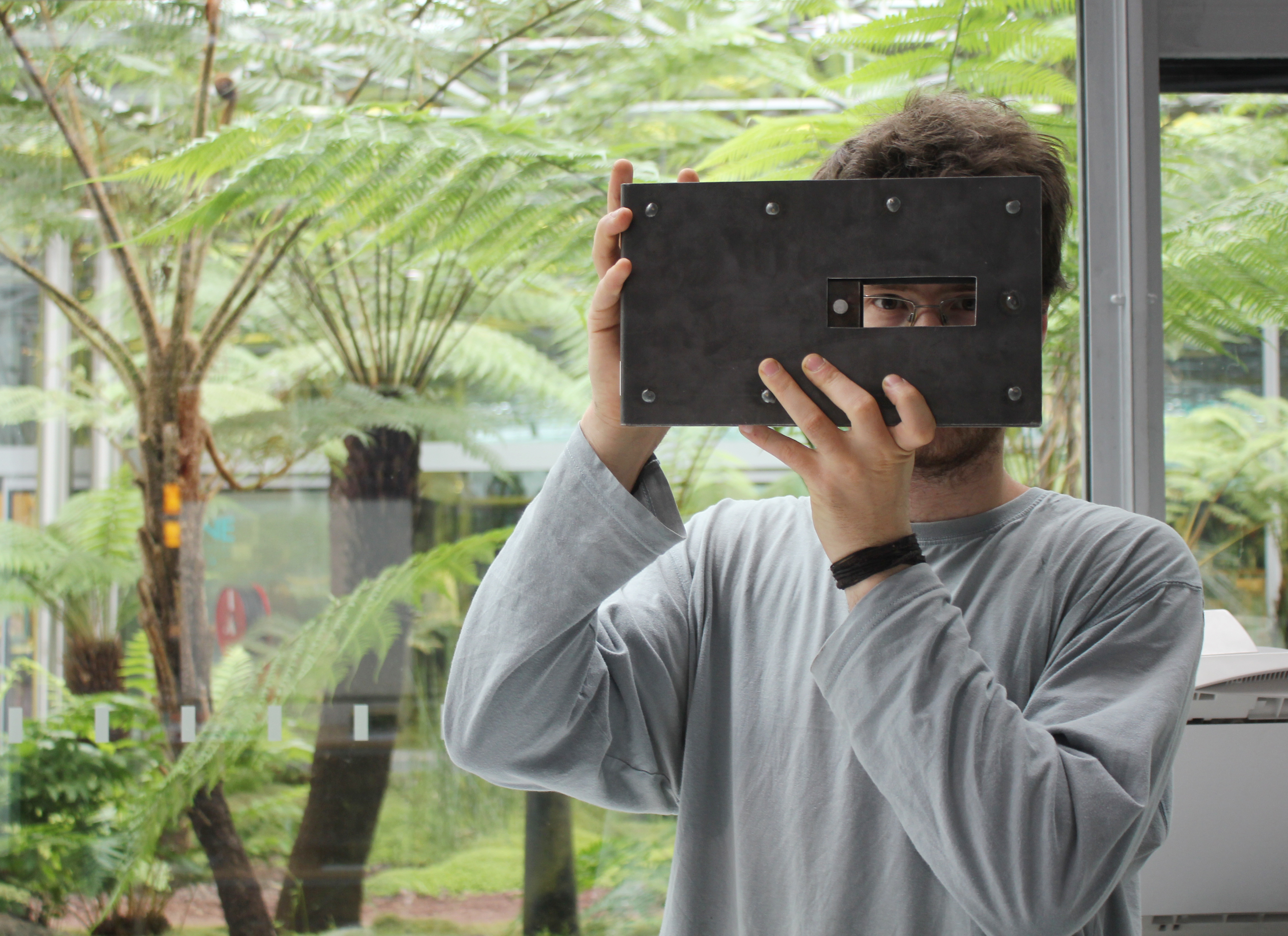 Livre d'artiste en un seul exemplaire, dimensions 32x17x4 cm, acier et zinc, comportant un oeilleton coulissant.

http://mediatheques.saint-etienne.fr/EXPLOITATION/Default/search.aspx?SC=DEFAULT&QUERY=alberti#/Detail/(query:(Id:'0_OFFSET_0',Index:1,NBResults:2,PageRange:3,SearchQuery:(CloudTerms:!(),ForceSearch:!t,Page:0,PageRange:3,QueryString:'panoptique%20de%20jeremy%20bentham',ResultSize:10,ScenarioCode:DEFAULT,ScenarioDisplayMode:display-standard,SearchLabel:'',SearchTerms:'panoptique%20de%20jeremy%20bentham',SortField:!n,SortOrder:0,TemplateParams:(Scenario:'',Scope:Default,Size:!n,Source:'',Support:''))))







Dan Graham, Mirror landscape / par Léa Ducos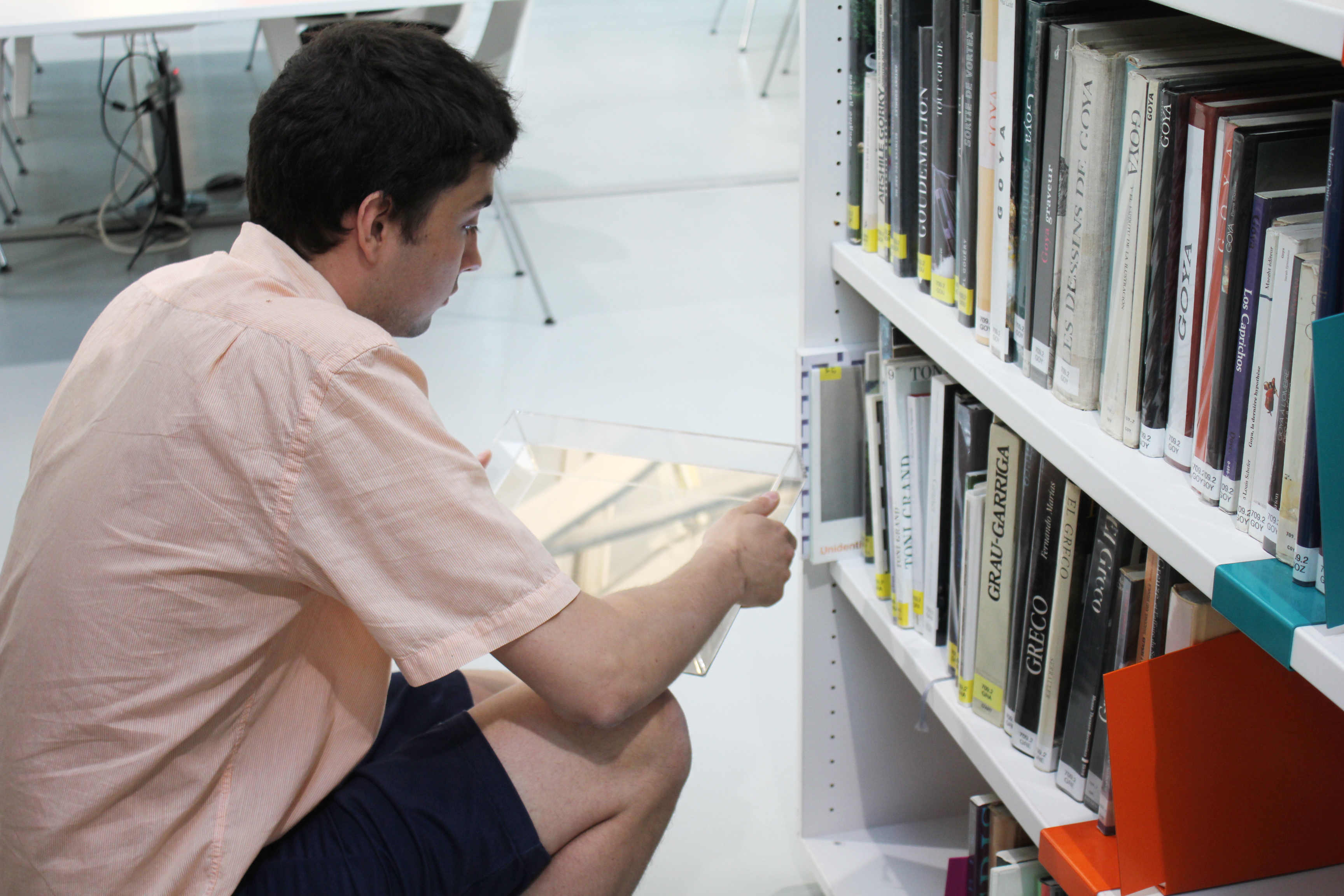 Livre d'artiste en un seul exemplaire, dimensions 34x27x5 cm, plexiglas et plexiglas-miroir.

http://mediatheques.saint-etienne.fr/EXPLOITATION/Default/search.aspx?SC=DEFAULT&QUERY=alberti#/Detail/(query:(Id:'3_OFFSET_0',Index:4,NBResults:140,PageRange:3,SearchQuery:(CloudTerms:!(),ForceSearch:!t,Page:0,PageRange:3,QueryString:'dan%20graham',ResultSize:10,ScenarioCode:DEFAULT,ScenarioDisplayMode:display-standard,SearchLabel:'',SearchTerms:'dan%20graham',SortField:!n,SortOrder:0,TemplateParams:(Scenario:'',Scope:Default,Size:!n,Source:'',Support:''))))






De la peinture - De pictura, 1435, de Leon Battista Alberti / par Léa Ducos

Livre d'artiste en un seul exemplaire, dimensions 30x24x4 cm, acier et laiton peints en noir.


http://mediatheques.saint-etienne.fr/EXPLOITATION/Default/search.aspx?SC=DEFAULT&QUERY=alberti#/Detail/(query:(Id:'0_OFFSET_0',Index:1,NBResults:15,PageRange:3,SearchQuery:(CloudTerms:!(),ForceSearch:!t,Page:0,PageRange:3,QueryString:'alberti%20de%20pictura',ResultSize:10,ScenarioCode:DEFAULT,ScenarioDisplayMode:display-standard,SearchLabel:'',SearchTerms:'alberti%20de%20pictura',SortField:!n,SortOrder:0,TemplateParams:(Scenario:'',Scope:Default,Size:!n,Source:'',Support:''))))




Manual of instructions for "Etant donnés 1 ̊ la chute d'eau, 2 ̊ le gaz d'éclairage...", de Marcel Duchamp / par Léa Ducos

Livre d'artiste en un seul exemplaire, dimensions 29x16x2,5 cm, en médium peint en blanc, judas intégré.

http://mediatheques.saint-etienne.fr/EXPLOITATION/Default/search.aspx?SC=DEFAULT&QUERY=alberti#/Detail/(query:(Id:'4_OFFSET_0',Index:5,NBResults:15,PageRange:3,SearchQuery:(CloudTerms:!(),ForceSearch:!t,Page:0,PageRange:3,QueryString:'lea%20ducos',ResultSize:10,ScenarioCode:DEFAULT,ScenarioDisplayMode:display-standard,SearchLabel:'',SearchTerms:'lea%20ducos',SortField:!n,SortOrder:0,TemplateParams:(Scenario:'',Scope:Default,Size:!n,Source:'',Support:''))))




PROTOCOLE D'ACTIVATION