A partir de la récupération de chute de l'atelier bois, Léa construit un vocabulaire de forme inopinée.
Par une gymnastique de déplacement des chutes, elle parvient à trouver un équilibre dans la composition spatiale de l'espace d'exposition. Celui ci est plutôt perçu comme un lieu d'éveil recréatif. Ces sculptures « posées » fonctionnent comme un écho à une stimulation du mouvement. Il y a dans les titres une forte reférence à la poésie musicale, aux histoires et jeux d'enfants. Son travail est très joueur. Il est d'ailleurs fourré de double-sens, aussi bien dans le fond que dans la forme.
Le simple geste d'ajuster des objets contre un mur et le sol relève de la recherche d'un équilibre, comme le principe du château de cartes.
Tel « Un coup de dés jamais n'abolira le hasard » de Stéphane Mallarmé, elle recherche une forme d'écriture poétique dans l'espace d'exposition.

From the recovery of the scraps from the wood workshop, Léa builds a vocabulary of unexpected form.
By nimbly moving the scraps, she manages to find a balance in the spatial composition of the exhibition space. The space is perceived as a place of recreational awakening. These 'laid' sculptures function as an echo to a stimulation of movement. There is a strong reference to musical poetry, stories and children's games in the titles of her art. Her work is very playful. It is also filled with double meanings, both in content and form.
The simple act of adjusting objects against a wall and the floor is part of the search for balance, like the principle of a house of cards.
Like Stéphane Mallarmé's "Un coup de dés jamais n'abolira le hasard" ("A throw of the dice will never abolish chance"), she seeks a form of poetic writing in the exhibition space.



Tremplin/Springboard
2018
bois/wood
248 x 67 x 54 cm







Space (Oddity)
2018
bois
64 x 63 x 48 cm








(Space) Oddity
2018
bois
56 x 54 x 67 cm








Ribambelle/Flock
2018
bois, métal et zip/wood, metal and plastic
114 x 46 x 138 cm








Sans-sens/Without sense
2018
MDF et charnière/ wood and hinge
62 x 124 x 16 cm










Métropolis
2018
bois/wood
142 x 46 x 67 cm



Tri-angles
matériaux mixtes
21,5 x 32,5 x 8 cm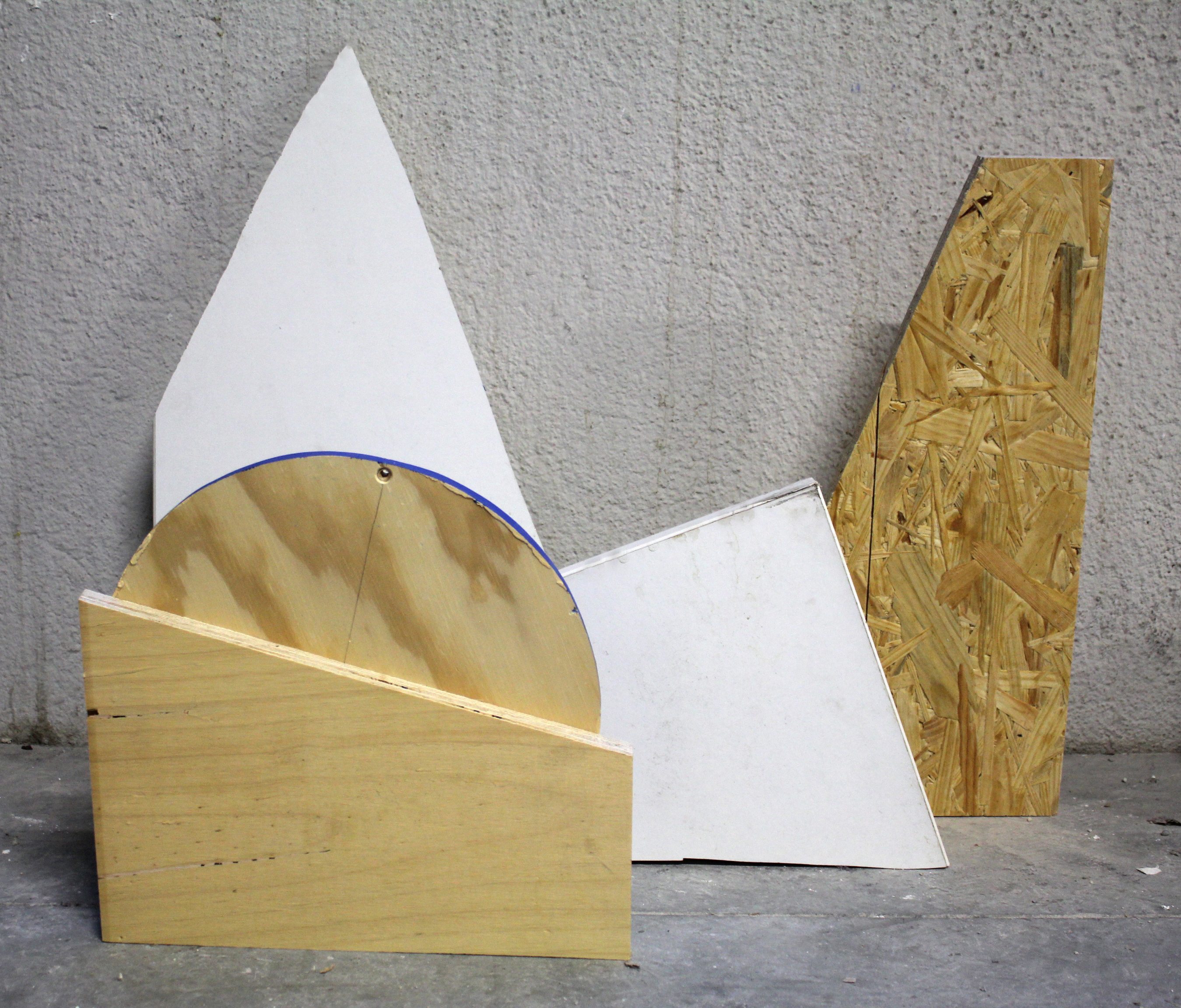 Échappatoire
matériaux mixtes
54 x 43 x 16 cm